Last Thursday a Brazil customer visited our office, we had worked together for several times, in the past year.  The client has a surge in the demands for RAM and SSD products in Brazil market,  he wanted to know more about Whalkom to smooth our cooperation next year and make Whalekom a key partner in its organic growth plan.
In the meeting , the client shows us its company growth plan and how he position Whalekom in its plan. So he asked several key questions of Whalekom to better understanding each other.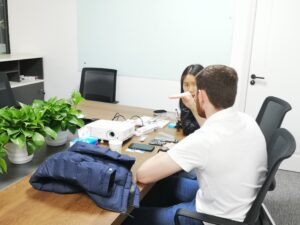 What's the plan of  Whalekom in 2021
In past 2020, we have seen such an surging demand in memory industry and price keep increases. 2020 was a colorful might a little bit painful year for all of us, but Whalekem is excited to say it achieved its little goal in the year. Our aim this year is to attain more distributors globally and strengthen our market position trough associations with partners .Now Whalekom has DDR3 4GB/8GB RAM Memory, DDR4 4GB/8GB/16GB Ram Memory and SSD SATA/MSATA/ M.2 /PCIE 128GB/256GB/512GB/1TB  products, Whalekom will further rich its product line and market activities to let the world know more of us.
What makes Whalekom a reliable prater for global customers ?
Whalekom is established by visionary talents Who have extinguished experience in the industry. They established a group of international companies in USA, TW, HK and now Shenzhen China. As we know, in memory industry, product price keep fluctuating, accurate and quick response to market change is essential to a promising business. Whalkom has channel and talents to extract and analysis market trend and share with global partners to be fully prepared for market change.
What do you do to make sure your product is good quality
First of all , our factory is qualified by ISO 9001, and all our procedures are strictly implemented according to its standards. Meanwhile practicable tanning system enable us to make sure our new employee to fulfill its role. And Whalekom has the most extensive and rigorous testing procedures and technological innovations in the memory industry to be qualified. We are very confident to promise and provide three years warranty to our products.
How do you make sure your partner can get best and cheap price of ram memory and ssd
Long term cooperation is what both of us happy to see, that's a win-win situation. Whalekom is committing to provide qualified DDR RAM and SSD with affordable prices. We seek for value of the product but not cheapest product, which comes at the cost of quality or service. Even we are not big as Samsung, Hynix, Micron or Adata, Whalekom has own stable and competitive chipset channel, it will help us to provide stable product stock and competitive price to our global customers.
How do you think your own brand Whalekom and other big brands
No doubts, big brands are taking a very big pie of market,  but there are still lots of smaller brands are thriving in the market. Whalekom is of those brands who have limitless potentials.
Market has segmentations, currently Whalekom does not image itself in the same segmentation with those big brands, it will grasp different market share .But in 2021, we will carry out many promotional activities and conduct several events to promote our DDR Ram Memory and SSD serials.
It was a productive meet-up ,the client made comments constructively in terms of Brazil market. Whalekom believe our cooperation relationship will extending longtime and be beneficial for both of us.